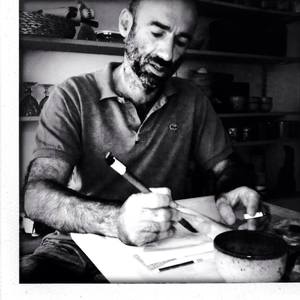 Follow
Francois-Henri Galland
Paris, France
About Francois-Henri Galland
http://instagram.com/francoishenrigalland/ My artworks are present in Los Angeles, New-York, Philadelphia, Washington, Sydney, Hong-Kong, London, Marrakech, Geneva, Helsinki, Paris and London private collections.
Education:
"Galland grew up in Madagascar and now works and lives in Paris. He began focusing on ink portraits a decade ago, using Chinese tools as his medium, transitioning into watercolours.

Galland's work seeks to convey emotion and gesture, with as few marks and details as possible, capturing the essence of his subject impeccably." (showstudio.com)
Events:
2018 : H707films, PARIS. Video and exhibition.
2018 : Lauren Wager , "La palette parfaite".
2018 : Joanna Goss, "The watercolor ideas book".
2017 : Limited editions, Saatchiart.
2017 : Max Joseph magazin, Germany.
2017: AGEFI BLISS magazine, Switzerland.
2017 : Showstudio.com, London.
Exhibitions:
2018 : 100 women, Showstudio gallery, London.
2017 : "Carnets", Halle Nord, Genève.
2016 : Galerie Simple, Paris.
Recent Activity