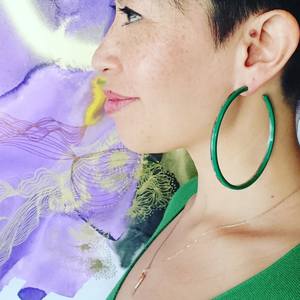 Follow
Marijah Bac Cam
Uzès, Occitanie, France
About Marijah Bac Cam
Marijah Bac Cam is a French multidisciplinary artist, born in Laos (1974) with Tai Dam roots. She grew up in the Paris region and since 2006 lives and works in the south of France (Gard). Her works are preserved and exhibited in different countries: Belgium, China, France, Germany, Italy, Netherlands, Switzerland, Turkey, United Arab Emirates, United Kingdom and United States. ____"My work focuses on the exploration of the surface and depth to my relationship to the world in different factors of acculturation by gesture and line. I am interested in painting to drawing, abstract to figurative and conventional techniques to modern digital techniques. As a woman and a mutable personality, I perceive what surrounds me very much through feelings and emotions, so, cyclically, I express my different modes of expression and my gaze, under different states of mind and different degrees of intensity. Painting is a way of freeing my superficiality by the dynamic gesture and the contrast of colors. Drawing allows me to dig into my bowels and my organic cells and to feel connections and invisible inner networks. Abstraction expresses my senses, my spiritual emotions, and figuration expresses my primary instincts, almost animals. "
Education:
1998 Honors degrees of Arts (BA Visual Arts or Maîtrise d'arts-plastiques) : University of Paris 1 – Panthéon Sorbonne – Paris XVème, France.
1994 BTn F12 Applied-Arts : Lycée Camille Claudel - Vauréal, France

Events:
Awards / Recognition / Canvas (blog by Saatchi Art):

2019 "Speak Out: Marijah Bac Cam"
March 01.
2018 "Artist of the day Saatchi Art " 07/25
2018 "Saatchi Art Early Spring" and "Spring 2018 Catalog"
2017 "Saatchi Art Catalog Fall 2017 Vol. 1 & 2"
2017 "Limited" by Saatchi Art
2017 Art Book Catalog : "Imago Mundi Luciano Benetton Collection. France : Instant Présent . Contemporary Artists from France"
2017 "Saatchi Art Catalog Spring 2017 Vol. 1: Collector Favorites"
2016 "Collector Favorites: November, ed. 2"
2016 "Get the Look: Precious Metals"
2016 "6 Tips for Styling Side Tables With Contemporary Art".
2015 Featured "Artist of the day 4-21-2015" by Saatchi Art Team.
2014 Prix lacritique.org at Salon Réalités Nouvelles Paris, France.
2014 Kunstpreis der Stadt Fürstenwalde Germany / 1st art prize of the city Fürstenwalde, Germany.

Exhibitions:
Permanent:

Since 2016 "Imago Mundi ART France" collection Fondazione Luciano Benetton.

Solo Exhibitions:

2014 Gallery La Petite Expo –Lussan, France.
2013 Gallery La Petite Expo De Lussan – Lussan, France.
2011 Gallery Corps & Âme – Nîmes, France.
2010 « Carte Blanche » Gallery Indigo – Uzès, France.
2010 « Entre Abscisses et Ordonnées » Café Restaurant Le Renaissance – Uzès, France.
2006 Bookstore Le Lézard Amoureux – Cavaillon, France.

Group Exhibitions:

2018, 26-30 June "Métissage, l'art du partage" Pôle Culturel et Scientifique de Rochebelle, Alès France.
2016-2017 Brandt-Roberts Galleries, Columbus, Ohio, USA.
2016 «Biennial 2016 Sudestampe» Galerie de la Salamandre, Nîmes, France, 4 November - 3 December
2016 «Praxis (Process)» Brandt-Roberts Galleries, Columbus, Ohio, USA, 7- 30 October 2016.
2016 «#Twitterartexhibit» Trygve Lie Gallery New York, NY, USA, 31 March - 21 April.
2015 « Art Connection 15"», Kuala Lumpur, Malaysia.
2014-2015 « Focus Latin America: Art Is Our Last Hope », Shade Gallery at the monOrchid Phoenix, USA.
2014 « SUDestampe », Nîmes, France.
2014 « RN Structure » Guoyi ART MUSEUM – National Gallery of Fine Arts, Beijing, Chine.
2014 « 1st edition of the Internationnal Trienniale Prize Constraste », Galerie Contraste, Fribourg , Switzerland.
2014 « Salon des Réalités Nouvelles », Parc Floral de Paris/Vincennes, Paris, France.
2014 "8. Ausstellung Miniatur in der bildenden Kunst", Fürstenwalde Germany.
2014 "From Dolce Vita To The Great Beauty", Rome, Italy.
2014 "Art Crasher", Venice Arts Gallery, Los Angeles, USA.
2014 "48 Stunden Nuekölln", Berlin, Germany.
2014 "Borders", Central Station, Strasbourg, France.
2014 "Su / Water", KargART, Istanbul, Turkey.
2013 "Myths and Legends of Eastern Europe, part2", Gallery LWW, Amsterdam, the Netherlands.
2013 Gallery School of design ESDAC, Aix-en-Provence, France.
2013 Gallery Audrey Carbo, Nîmes, France.
2012 Collective Studio-Gallery «L'Atelier En Chantier», Uzès, France.
2011 "Boulev'ART n°7″ Gallery Indigo, Uzès, France. + Gallery Méridienne, Méjannes le Clap, France.
2011-2013 Gallery Xavier Delannoy + "Contemporains d'Art" Théâtre Le Chien Qui Fume, Avignon, France.
2011 "Art in the city" Gallery Indigo, Uzès, France.
2010 "Trio à la Galerie Indigo", Uzès, France.
2010 Gallery The-SmArt-Home-Shop, Uzès, France.
2009 Performance with the collective "Anitya Soundpainting" Hôtel des Consuls, Uzès, France.
2009 Studio-Gallery Les Argonautes, Uzès, France.
2004-2005 Art Salons, department of Oise, France.

Lastest Collections of the year on Saatchi Art:
2017 "New This Week 10-2-2017" curated by Rebecca Wilson
2017 "New This Week 8-14-2017" curated by Rebecca Wilson
2017 "Spotlight on Women Artists" curated by Evangelyn Delacare
2017 "Featured Drawings" curated by Evangelyn Delacare
2017 "New This Week 4-10-2017" Curated by: Rebecca Wilson
2017 "Inspired by Pollock" curated by Evangelyn Delacare




Recent Activity